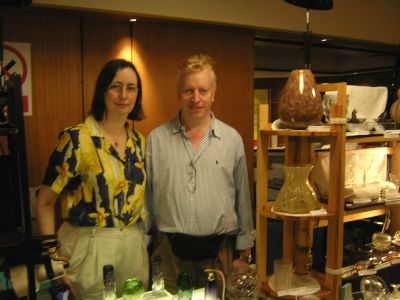 Fairs & Shows we do
Datelined, Vetted and Stand Fitted Shows

Chelsea Antiques : 18th -20th March 2020

Battersea Decorative Fair : 21st-26th January 2020, 14st-18th May 2020

Petworth Park Antiques Fair : TBA

Fine Arts and Antiques Fair, Olympia : 4th-10th November 2019 - Our Next Show,

The LAPADA Art & Antiques Show : TBA

Antiques For Everyone, NEC : 28th November-1st December 2019, 2nd-5th April 2020 , 16th-19th July 2020, 19th-22nd November 2020

The Mayfair Antiques show : 9th-12th January 2020

For more information about these fairs just click on the fair names, this will take you directly to the fair organiser's websites.

Or Email us on [email protected].

Click Here to return to our site -for great Rene Lalique, Emile Galle and Daum Glass and Click Here to return to our British Glass and Glass Jewelery page.

LINKS
People often ask us about other good links to Glass and related websites.

Here are a few of our real favourites

Broadfield House Glass Museum is the best glass museum in the UK

On line glass Museum is the best on-line glass museum

WorldArtGlass.com is a great guide to art glass around the World, includin links to galleries, studios, museums, sources of information, events, organizations, publications etc.


The Glass Association is the link to the Glass association -everyone should be a member

Loetz Glass is a wondeful information site

Cloud Glass is another great information website


Circa glass is a great website for Whitefriars and Scandinavian glass

20th Century glass is a great website for 20th century glass especially the great pressed glass makers.

Deco Dave is a great website for Art Deco Lighting and other Art Deco Desirables

Cloud 9 has some wonderful Art Deco furniture

The Design Gallery is a stunning place for serious Art Nouveau and Art Deco furniture and smaller items.

Reclamation Warriors are great for that big French look!

Artius Glass is a great website for modern british glass especially Isle of Wight glass

Abfabglass is THE place to go for wonderful Okra glass

Richmond Silver is a great website for those hard to find silver presents etc


Moser and Lalique are the websites for the great companies themselves. Here you can see what they make now!

There was a great exhibition from the Lalique Family collection a few years ago you can see some of the pieces here Pictures from the Exposition
Bibiliography
We often get asked about our magazine articles the full list to date is here:

1. Lalique -up close and personal- Antiques Magazine:Issue 1106- February 2007
2. Galle -up close and personal– Antiques Magazine -Issue 1120- September 2007
3. Moser-up close and personal– Antiques Magazine –Issue 1129 February 2008
4. Silk and Glass – a Flapper Fashion (pendants)– Antiques Magazine -Issue 1139 August 2008
5. Lalique Glass: 100 years of excellence– Collect-it!- Issue 139 February 2009
6. Kralik & Rindskopf –Unsung Heroes of Art Nouveau Glass-Antiquexplorer-Issue 99 April 2009
7. Daum Explained part 1- The Glass Cone –Issue 87 Summer 2009
8. Daum Explained part 2 -The Glass Cone –Issue 88 Autumn 2009
9. A Fascination with Light- L C Tiffany –Collect it! –Issue 147 October 2009
10.A Transformation in Glass: Bohemian hock glasses –Collect it! Issue 148 November 2009
11.Art Deco for the masses -Stuart enamel -Collect it! Issue 150 January 2010
12.Emile Galle: grandmaster of glass -Collect-it! –Issue 151 February 2010
13.Flapper pendants (GAR & AW) –Antiquexplorer –Issue 110 April 2010
14.Collecting Bohemian inkwells and desk-ware (Kralik) –Collect it! Issue 154 May 2010
15.Ten of the Best -British Glass design Classics -Collect it! Issue 157 Aug 2010
16.Three-minute expert! -A Beginners Guide to Glass Part 1 -Collect it! November 2010
17.Drinking with Rene Lalique –The Glass Journal Volume 9 February 2011
18.Secessionist Glass -The Glass Circle News March 2012
19.Vienna & Budapest -Glass association trip -The Glass Cone Winter 2013/4
20.Harrach - the Glass chameleon -Antiques Collectors Magazine May 2014

See also our on-line series on unappreciated glass makers Unsung Heroes of Glass
Rene Lalique a & Other Art Glass in the News
Here we list a few hopefully interesting Web-based links to Rene Lalique and the other great art glass makers in the news.

One of the best places to see Lalique at the moment is in Lisbon at the Gulbenkian. Other exhibitions open and close.

Google allows you to track many things; one of the oddest for fans of Rene Lalique is the Cities with the most interest in Lalique

One of the more obscure trivia facts around Lalique is that he is also a comic character Lalique

Away from Lalique here is an excellent exhibition of Tiffany